Gasoline surged to the highest in two years and oil eased as flooding from Tropical Storm Harvey inundated refining centers along the Texas coast, shutting more than 10 percent of U.S. fuel-making capacity.
Motor fuel prices rose as much as 6.8 percent, while oil slipped from near $48 a barrel. Harvey, the strongest storm to hit the U.S. since 2004, made landfall as a hurricane Friday, flooding cities and shutting plants able to process some 2.26 million barrels of oil a day. Pipelines were closed, potentially stranding some crude in West Texas and starving New York Harbor of gasoline.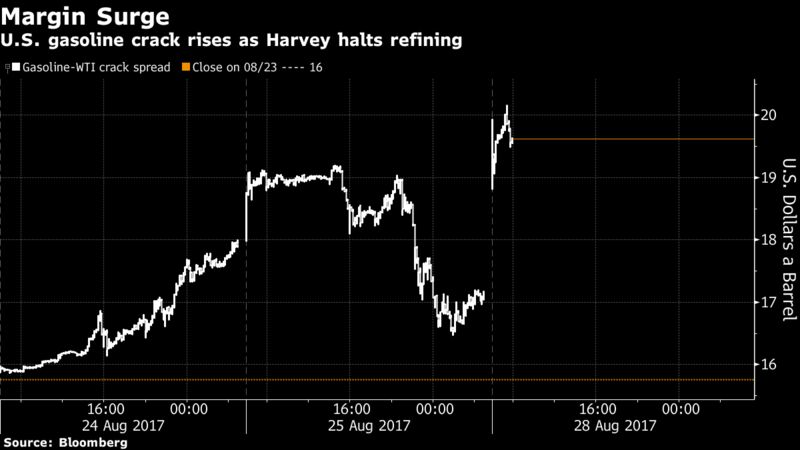 "Gasoline prices are going to continue to rise this week as we expect another three days of rain in the Houston area," Andy Lipow, president of consultant Lipow Oil Associates LLC in Houston, said by phone. "With pipeline operators beginning to shut down their crude oil and refined product infrastructure, I expect to see further curtailment of refinery operations. A spike in gasoline and diesel prices will drag up crude oil prices."
Oil has traded this month in the tightest range since February as investors weigh rising global supply against output cuts by members of the Organization of Petroleum Exporting Countries and its allies. As Harvey led to widespread flooding, Royal Dutch Shell Plc shut its Deer Park plant, while Magellan Midstream Partners LP suspendedits inbound and outbound refined products and crude pipeline transportation services in the Houston area.
Gasoline for September delivery climbed as much as 11.33 cents to $1.7799 a gallon on the New York Mercantile Exchange, the highest intraday price for a front-month contract since July 2015. It traded at $1.7269 at 7:47 a.m. in London. West Texas Intermediate oil for October delivery fell 22 cents to $47.65 a barrel after advancing 0.9 percent on Friday.
Brent crude's premium to WTI widened to the largest in two years with the global benchmark trading at as much as $4.96 above the U.S. marker. Brent for October settlement gained 5 cents to $52.46 a barrel on the London-based ICE Futures Europe exchange.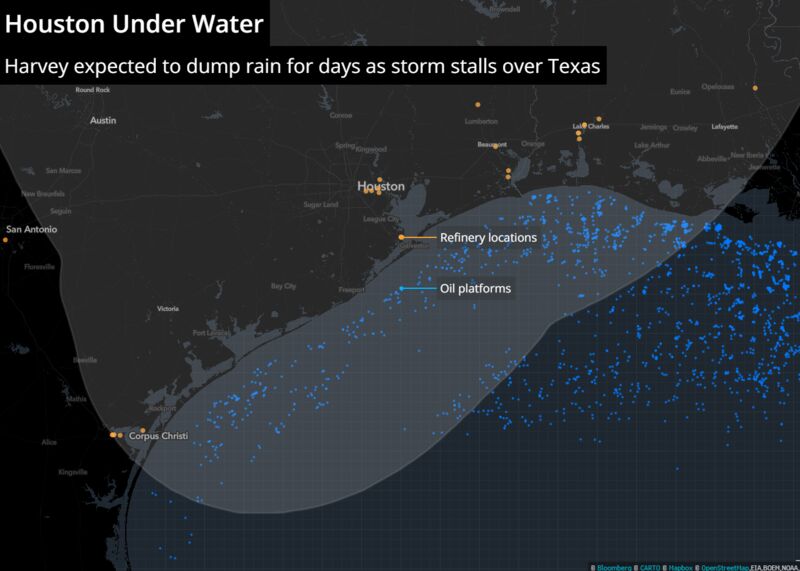 "We'll see higher pump prices, but I think the crude oil price is likely to remain more steady," Mark Pervan, a Sydney-based chief economist for AME Group, said in a Bloomberg television interview. "We're certainly looking at a slightly different market dynamic than we did last time we had a big weather event like this. The U.S. oil production landscape has moved more onshore essentially, away from the Gulf of Mexico."